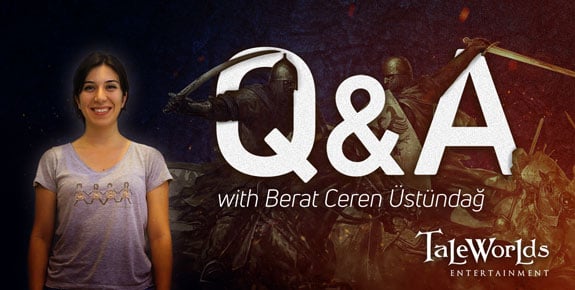 Greetings warriors of Calradia!
Mount & Blade features a unique single player mode: instead of closely following a storyline, we want players to experience their own unique adventure on each playthrough. This presents us with a great challenge on both the narrative and technical fronts. We have to make different places, missions, characters and systems capable of responding dynamically to what the player wants to do, creating a rich and deep emergent narrative. As the lead programmer of the Campaign Team, Berat Ceren Üstündağ's job is to implement these systems to create a campaign that can truly react to the player and allow them to be the captain of their own destiny.
NAME
Berat Ceren Üstündağ
FROM
Ankara (Turkey)
JOINED TALEWORLDS
2012
EDUCATION
Computer Science
OFFICIAL JOB DESCRIPTION
Lead Programmer (Campaign Team)
WHAT DO YOU NORMALLY DO DURING YOUR DAY?
"Mostly, I'm working on non-battle scenes like tournaments, towns, villages, taverns etc. For NPC agents, I work directly with the animators – we are trying to make them feel as real as possible so that you get the sense of a living world while walking around the streets of towns and villages. I also collaborate with the artists - I prepare scripted entities for them, and then they use these entities to prepare a scene for a game mission. Apart from that, I implement quests and work on some other campaign features.
I have short meetings twice a week with the rest of the campaign team, and there are times when I attend design meetings to discuss the technical details of game features."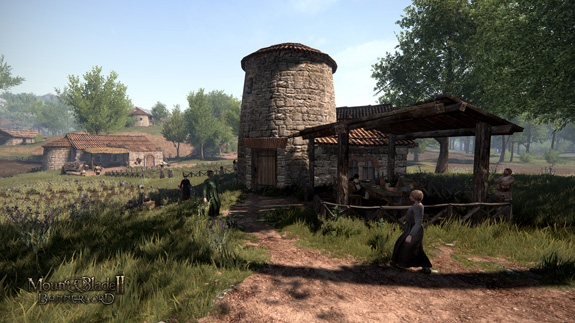 WHAT DO YOU LIKE THE MOST ABOUT BANNERLORD?
"I think I like the randomness of the world the most. There are factions, nobles and notables, relations between them, settlements with different specialities... All of these aspects change from game to game and we cannot know exactly where players will be and what they will face in that kind of unstructured gameplay. For example, our common quests are dynamically created by the current state of the world. This means that we don't just spawn in characters or create the conditions for a quest, but rather that the game looks to see what is currently happening and offers a mission based on what is available."
WHAT'S THE MOST DIFFICULT THING THAT YOU SOLVED SO FAR, DURING THE PRODUCTION OF BANNERLORD?
"I think the most difficult part is trying to keep every feature moddable. This is something that we have to constantly keep in mind while we are adding a new feature or maintaining an implemented part of the game."
WHAT DO YOU CURRENTLY WORK ON?
"Currently I'm working on quests."
WHAT FACTION DO YOU LIKE THE MOST IN BANNERLORD?
"I like all of them, but if I had to pick one it would be Battania. I enjoy the atmosphere of that faction's towns and villages."
HAVE ANY CHANGES BEEN MADE TO THE RECRUITMENT SYSTEM?
"There have been many changes to the recruitment system. First of all, players can recruit base troops only from notables of fiefs. Some notables even provide higher level troops, such as archers or infantry, rather than just recruits. Depending on the relations with that particular NPC, they can provide a reduction in the recruitment cost or offer more troops for the player to hire.
Some special troops, such as Vlandian Knights, represent minor nobility. These kinds of units have completely different troop trees. In the instance of Vlandian Knights, they can only be upgraded from Vlandian Squires, who in turn can only be recruited from NPC nobles. With this in mind, it is wise to maintain good relations with Vlandian nobles if your eventual aim is to have Vlandian Knights in your party.
However, that's not to say that you are restricted from acquiring heavy cavalry if your relations with the Vlandian nobility is too poor. You will still have access to Vlandian Men-at- arms, who are almost as skilled as Knights but aren't as heavily armoured."
In next week's blog we will be talking with Murat Türe, Lead Programmer of the Game Engine Team. If you have a question you would like to ask him then please leave a reply to this post and we will select one for him to answer.
Join the conversation and comment on the forums! (113 comments)