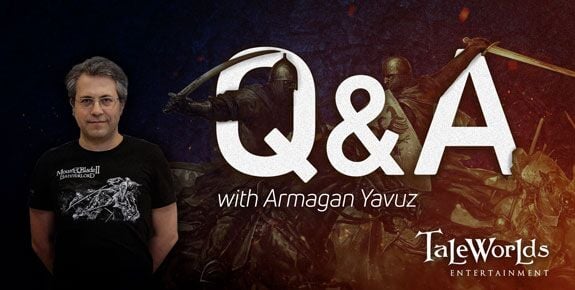 Greetings warriors of Calradia!
Today we start a series of interviews with the different team members of TaleWorlds Entertainment. Every video game is the result of the combined efforts of professionals with very different skills, and that applies to Mount & Blade too. Ours is a varied team, with people from different backgrounds: programmers, artists, musicians and writers (among others) from different parts of the world and varying cultures. Understanding their tasks and their daily struggle is a great way to learn more about games development in general – and Mount & Blade II: Bannerlord in particular! Today we start with TaleWorlds' founder and CEO: Armagan Yavuz. Every important decision passes through his hands; he is the one that makes sure that everyone and everything stays true to the original vision of the game. But it will be much better if he tells you about it by himself!
NAME
Armagan Yavuz
FROM
Ankara (Turkey)
JOINED TALEWORLDS
2005 (founder)
EDUCATION
Computer Science
OFFICIAL JOB DESCRIPTION
Lead game designer and game director
WHAT DO YOU NORMALLY DO DURING YOUR DAY?
"Most of my day is taken up by meetings. In the time not occupied by meetings, I do my tours around the office, and most team members call me over to their desks to show their work and get feedback, or to ask a question. I also play the game for a couple of hours to see if there are any problems. I no longer code as much as I used to and most of my tasks about coding involve directing other programmers and doing code reviews, however every now and then there is something that picks my interest so much, I give it a shot."
WHAT DO YOU LIKE THE MOST ABOUT BANNERLORD?
"What I like most is seeing how, as the campaign progresses, you as a player write your own story. I am also looking forward to finishing the game and seeing what kinds of mods will come out."
WHAT'S THE MOST DIFFICULT THING THAT YOU SOLVED SO FAR, DURING THE PRODUCTION OF BANNERLORD?
"Looking back, the biggest challenge for me was deciding on the general directions to take early in Bannerlord's development. Should we take the game to have a more fully fledged storyline, or should we aim for huge but less detailed battles? Should we drop the dynamic text and go for full voice over?
Decisions had to be made on the technical side too. We first needed to select which scripting system to use: C# (we picked this at the end), Lua, or something we would roll on our own. And then we had to decide how much of the code we wanted to move from our existing codebase and rewrite in the scripts. (At the end we ended up leaving only the combat engine and lowest level combat AI and write everything else in C#) We then needed to decide how to structure various components, how mods would work, etc.
Some decisions turned out to be exactly right while some caused problems and we had to backtrack and change them, costing a lot of time and effort. For example, we went through three different UI libraries and had to implement some screens several times over."
WHAT DO YOU CURRENTLY WORK ON?
"Today I worked on the design of how army coherence will be affected as an army stays in the field for a long time, and how a player can keep it together longer by arranging its composition and spending influence."
WHAT FACTION DO YOU LIKE THE MOST IN BANNERLORD?
"I like to play with Empire, because they are going through a period of crisis, and their situation presents interesting questions and opportunities for the player."
HAVE YOU TAKEN MAJOR INSPIRATION FROM ANY REAL (OR FICTIONAL) PLACES?
"Back when I had started working on the very first prototypes of Mount & Blade, I had the great fortune of seeing this from our window:
That's Yoros castle, which is a majestic fortification that guards the northern approach to the Bosphorus. I have always been interested in historical places and over the years I was able to visit some wonderful examples, but I think that particular castle was the biggest inspiration instilling in me a great respect and interest in medieval craftsmanship and way of life."
Join the conversation and comment on the forums! (94 comments)