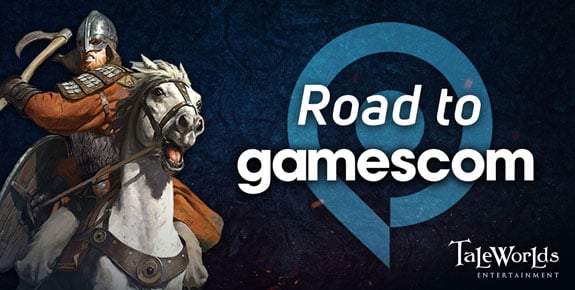 Greetings warriors of Calradia!
Gamescom is around the corner, and as you may have imagined, we will be there showcasing Mount & Blade II: Bannerlord. We can't tell you exactly what we will show just yet, but we can at least confirm that it will be something slightly different from the demo that we took to E3.
Before the hype goes through the roof: no, we won't announce a release date for Bannerlord at Gamescom. Of course, we know that you just can't wait to know when you will be able to play Bannerlord, and we certainly appreciate your excitement for the game – we know that impatience is just a reflection of the love people have for the Mount & Blade series. Over the preceding days, months and, well, years, you have repeatedly asked us why we can't just tell you a date – even if it's just an estimation, a window of release. Well, let's address the elephant in the room…
We have not disclosed a release date so far because it does not exist. We don't work like that. We are not a company who sets a timeline to release a product and then works to meet that deadline. We are TaleWorlds Entertainment: we create games because we love making them, and we want them to be the best games that we can possibly make. We think that our fans don't deserve less than our best efforts, our total commitment. We don't believe in releasing a game before it is ready just because we might miss the hype.
"But all these companies give a release date – why don't you?" We respect every approach, of course; we are not saying that if a company announces a release date then they are not trying their best to develop a great game. It's just that every company has a different philosophy and a different set of circumstances. For example, some companies have publishers, shareholders, investors and owners who press for a release date, even if it means cutting content from a game.
We are not in that situation, and creating the best game we possibly can is the most important thing to us. With that in mind, why limit ourselves with a release date if no one is pushing us to do so? And how would setting a date and then pushing it back further and further be better than not giving a date we are not sure about?
From a business perspective, there is no benefit at all for us to delay the release. The only thing that is important to us is developing a game that is truly unique, something that you will enjoy playing as much as we love making it. To sum this up: the release date will be announced only when the game is ready. Until then, we greatly appreciate any feedback we can receive from the community on the sections of the game that we are excited to show. Feedback improves the game!
Having said all that, we understand that some of you might fear that we are abandoning the game or that we are stuck in development hell. We can assure you that that is not the case: we have of course made our share of mistakes and false starts which have added to development time, but not more than what could be expected from a project of this scale.
Why so many years then? Well, the main reason is the size of the game. Bannerlord has a huge sandbox campaign which contains a number of different features that players can experience and enjoy. This includes, but is not limited to: fief and kingdom management, a deep trading system, a diplomacy and relationship system, and epic battles with hundreds of on-screen combatants that the player can command. Then there's the multiplayer aspect of the game, featuring a matchmaking system for the first time in the Mount & Blade series, which lets players test their combat and tactical skills against players from all over the world. We are also working on ways to support our fantastic modding community by making the game as highly moddable as possible. Five years is actually not that long for the development of a game which encompasses as much as Bannerlord does. There are a lot of fundamental tech and architecture changes compared to Warband: it's more complex than just adding some new textures and animations. It involves the technology, such as the new engine we built from scratch, but also the system, the mechanics – this is about balancing the invisible, the look and feel of the gameplay.
This is why we have not announced a release date, and why we won't do it at Gamescom either. And these are the reasons why we think of it not as a sign of weakness, but of respect for our work and our community. We are working as hard as we can to develop the great game you are all waiting for, and our primary focus is the quality of the final product. We want Bannerlord to be the best game that TaleWorlds can create, and we won't take any shortcuts to get there.
Finally, we would like to thank you for all the positive comments on last week's blog – we look forward to seeing you next week when we will publish the Q&A with Armagan Yavuz, the founder of TaleWorlds Entertainment and game director of Mount & Blade II: Bannerlord.
Join the conversation and comment on the forums! (209 comments)